Mathias Wasik, member of the New York City Street Photography Collective NYC-SPC, spend a very productive afternoon in Coney Island.
Mathias, please tell me a bit about yourself.
I'm a human rights activist, street photographer, and musician. Hailing from Poland, I grew up in Germany, before I moved to the U.S. in 2015. I have worked as a human rights campaigner for organizations like Amnesty International and All Out, and I try to combine my human rights work and my passion for photography whenever I can.
I got into photography through my father, who is a passionate photographer himself and who taught me all the tricks in his book. I've been a photographer for many years now, doing documentary work for magazines and travel photography, but it wasn't until I moved to the States that I really started becoming more aware of my style and influences.
I've studied the works of many photographers but my personal approach is probably mostly influenced by the likes of Martin Parr, Alex Webb, Harry Gruyaert, Fred Herzog, and Josef Koudelka. However, the list of photographers I admire is much, much longer and contains some very talented, young photographers from New York.
You are based in New York City, USA. Even if it seems that every corner in the city has already been photographed, what keeps you motivated to go out on the streets?
As I mentioned earlier, I only really got into street photography when I moved to New York. I find it much harder to shoot in the streets in Europe, where people are much more sceptical of being photographed by strangers, especially the way I like to do it, which is up-close and immersive. I'm really enjoying the freedom I have in NYC in this regard.
It's definitely true that New York is a popular subject in photography. And there's a good reason for that. With its landmarks, buildings and tourist attractions, the city truly serves as a backdrop for the daily theatre of life. What I am interested in the most are the moments that happen for an instant, only to disappear forever.
I am very strict with myself as to what I consider a good photo. For me, it's not street photography when someone else can just go to the same spot and take a similar picture. This is what really motivates me and keeps me going: finding the exclusive, singular moments in the chaos of the city.
Your photos are part from the series "Washed ashore", shot in Coney Island. How did that series come about?
Street photography for me is sort of a daily exercise—a means to keep me shooting every day. I always have my camera on me so I shoot on my daily commute, in my lunch breaks—really anywhere and anytime. But shooting single scenes is only satisfying to some extent. I believe a good photograph always tells a story. But it's a series that creates a real narrative. I prefer to work on a thematic series—sometimes over extended periods of time.
"Washed Ashore" was produced really quickly. It was the result of a very productive afternoon in Coney Island. I don't often find the time for the long trek down to the beach but on that hot summer Saturday, I spent a few hours there. At the end of the day, I had enough shots that I was happy with, so I decided to print the series in a zine.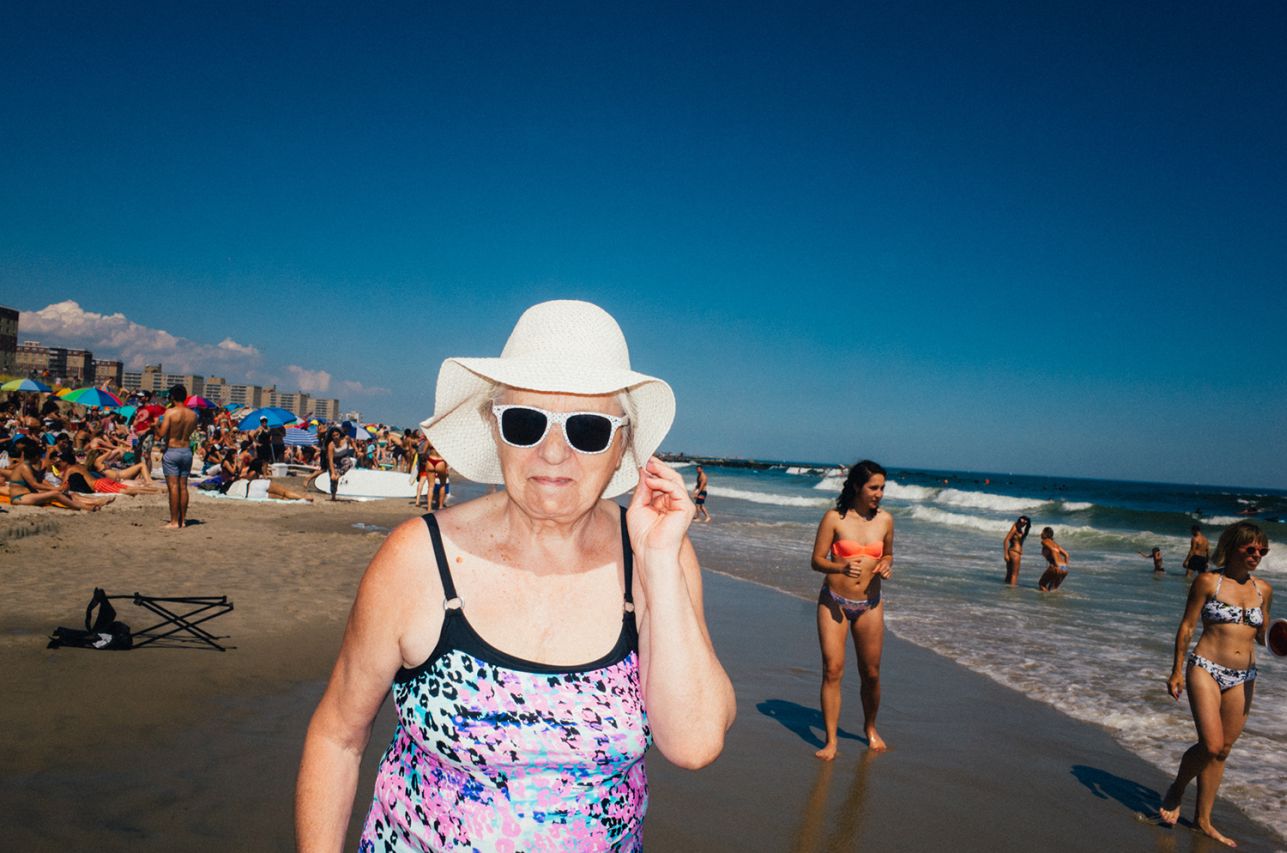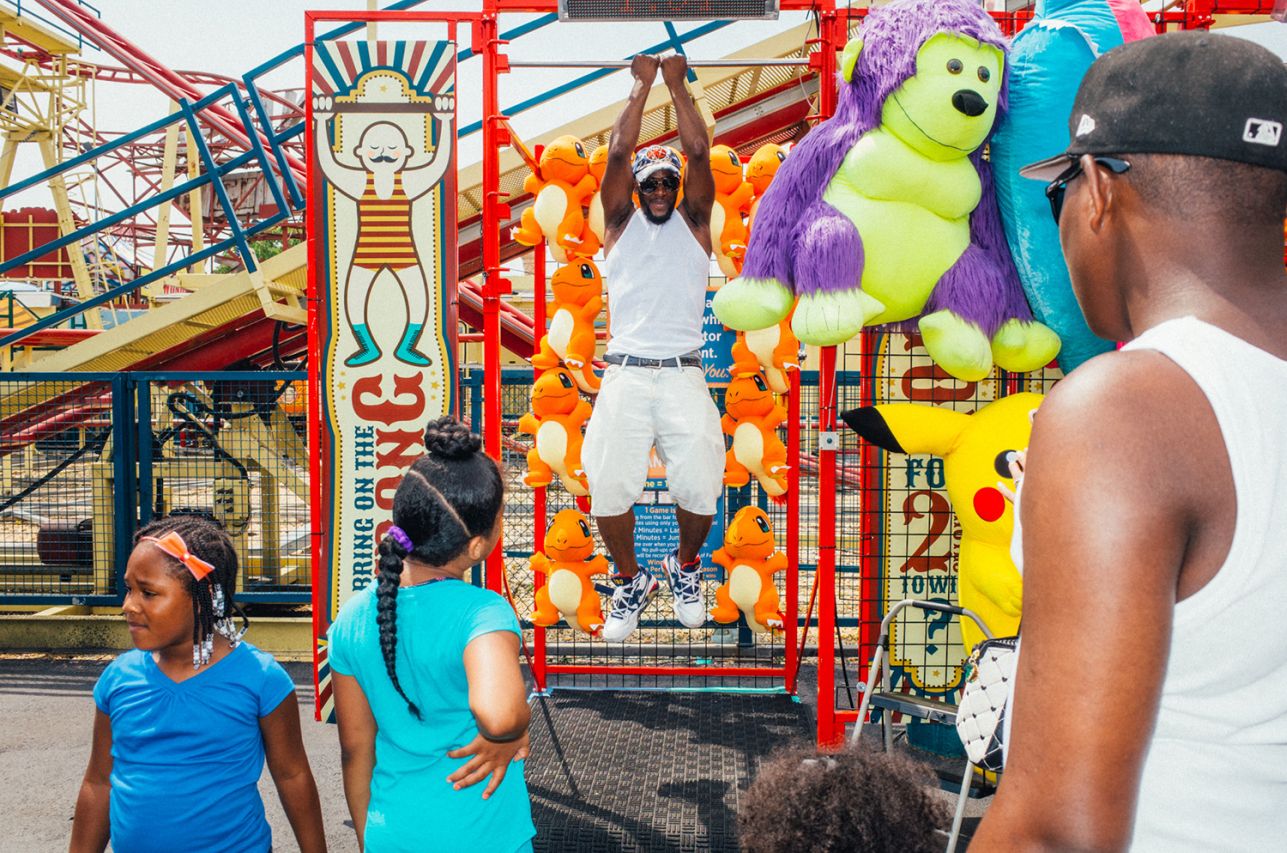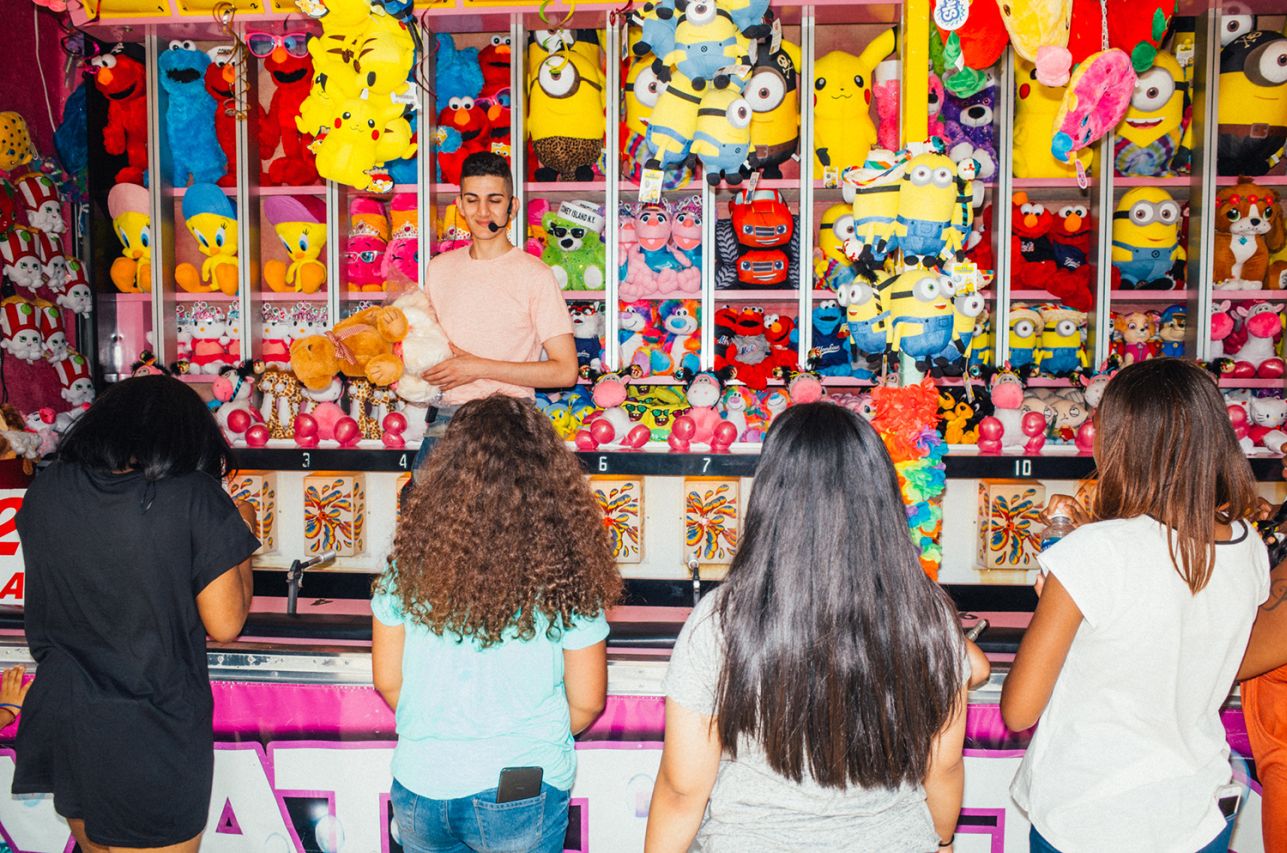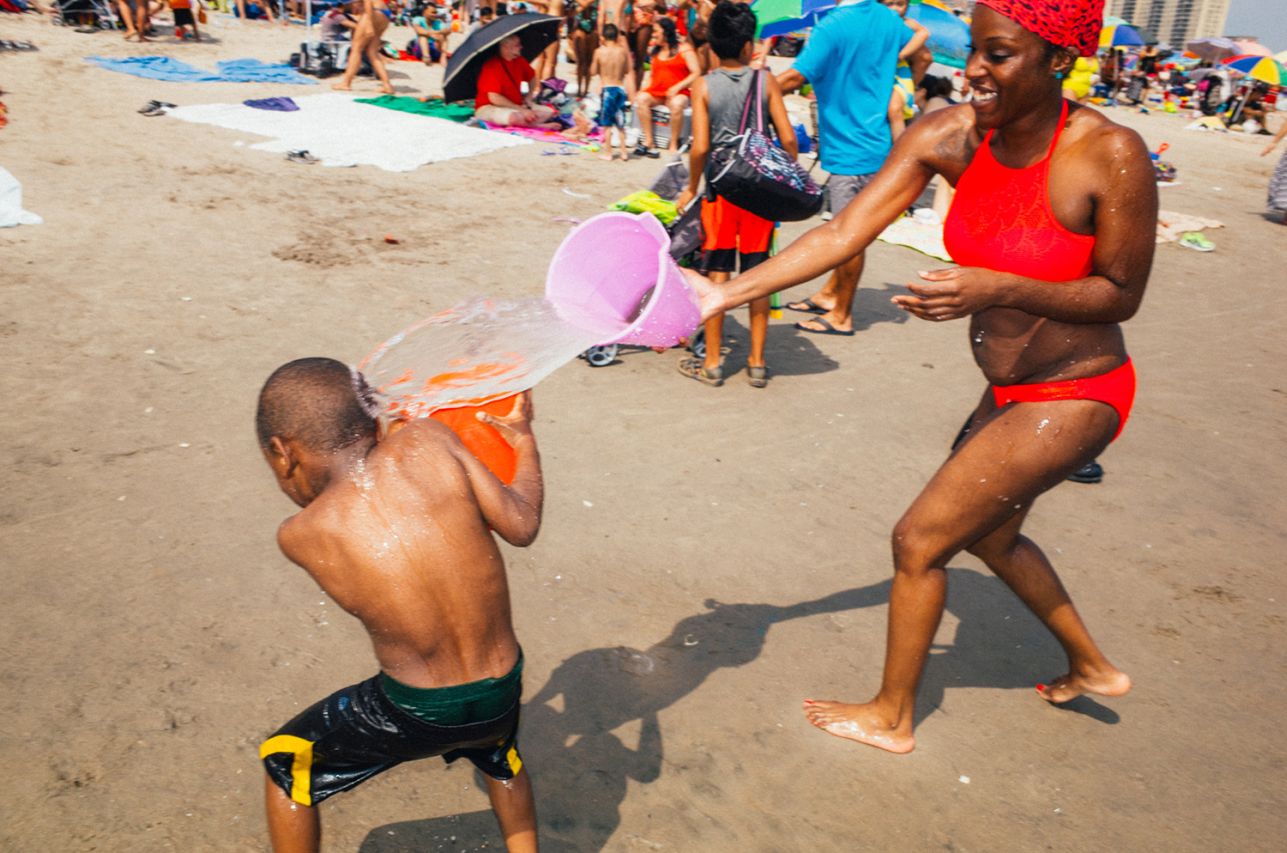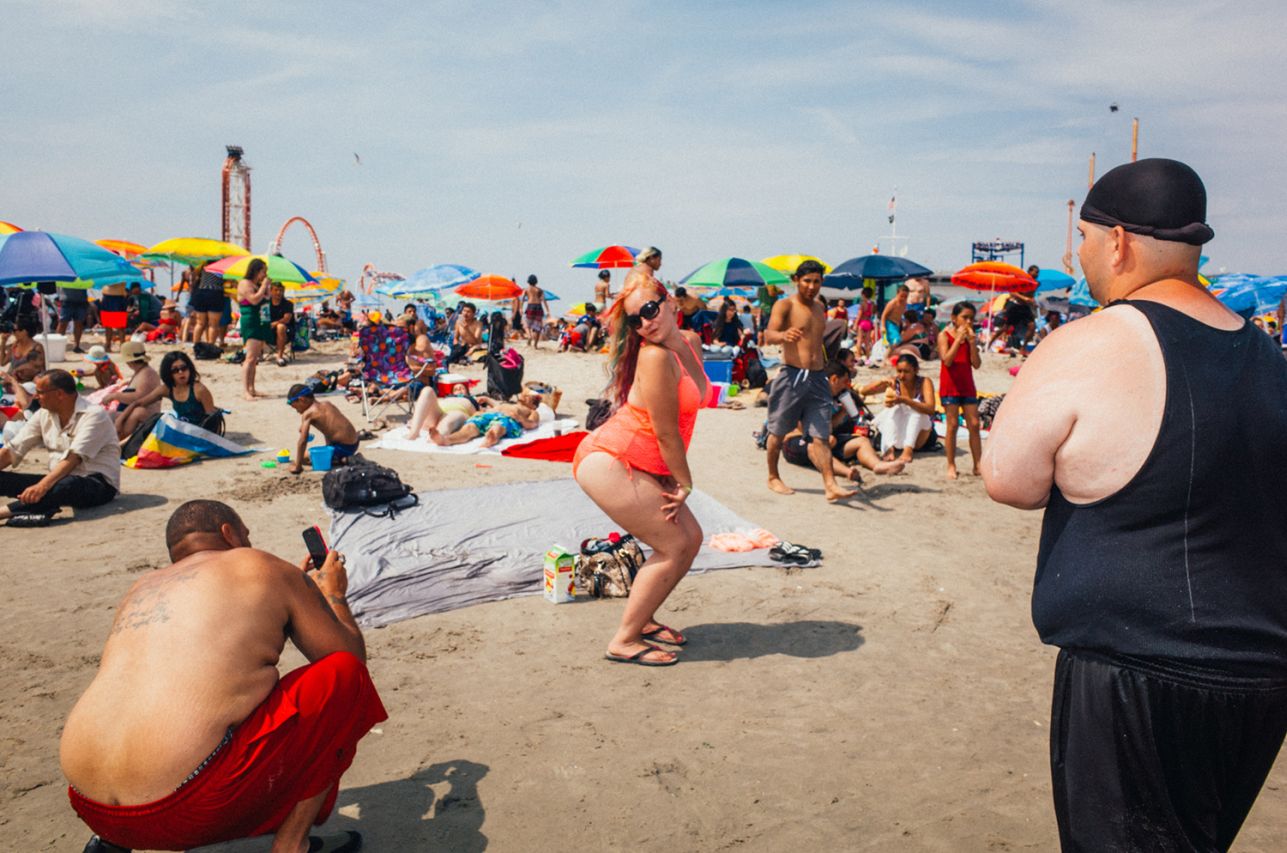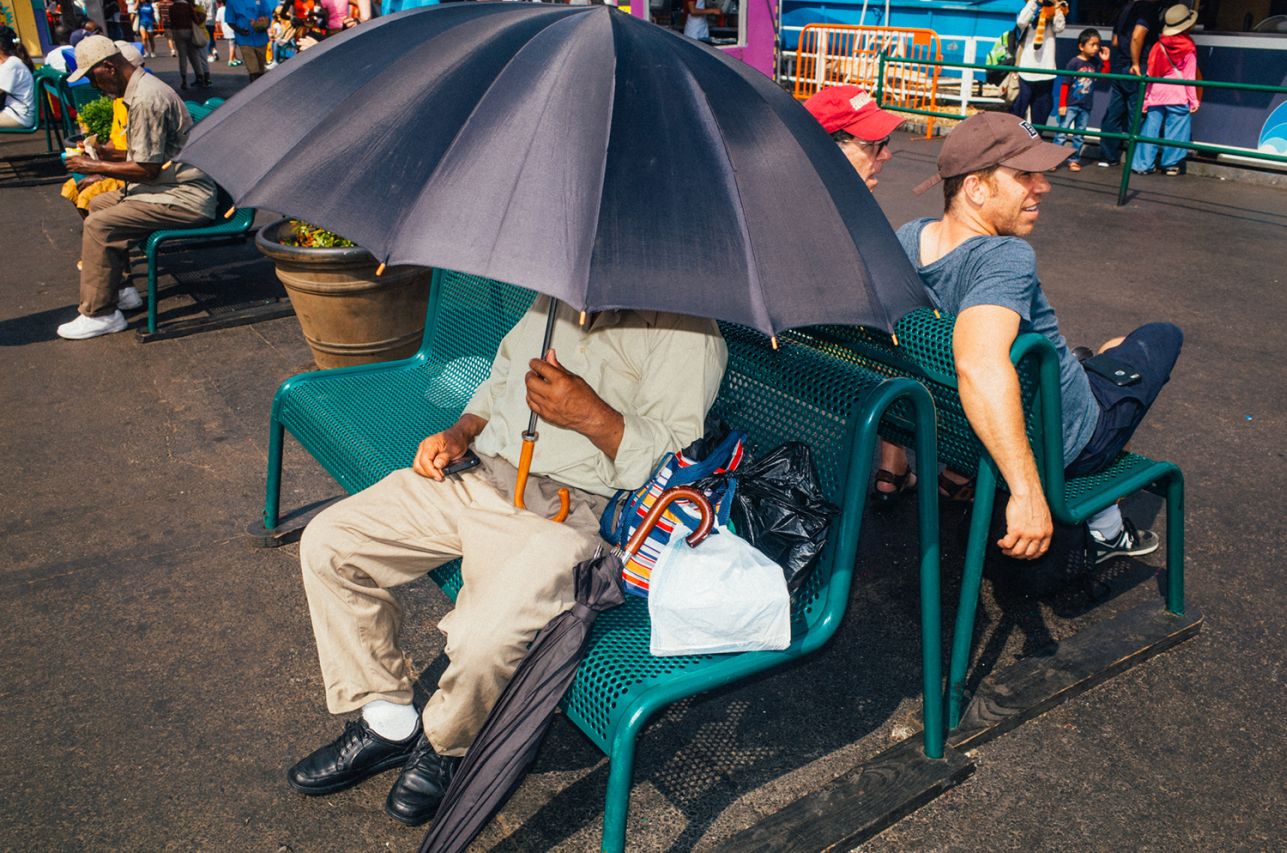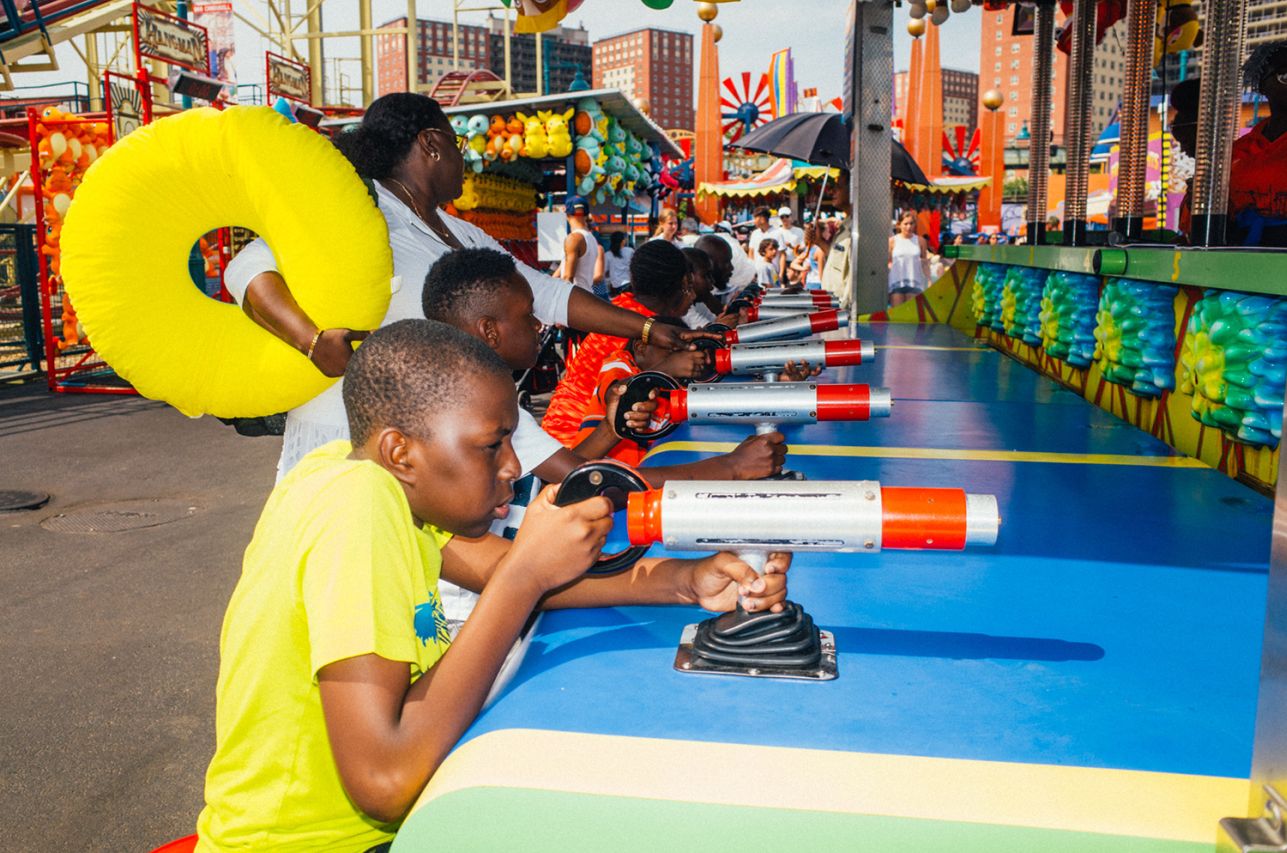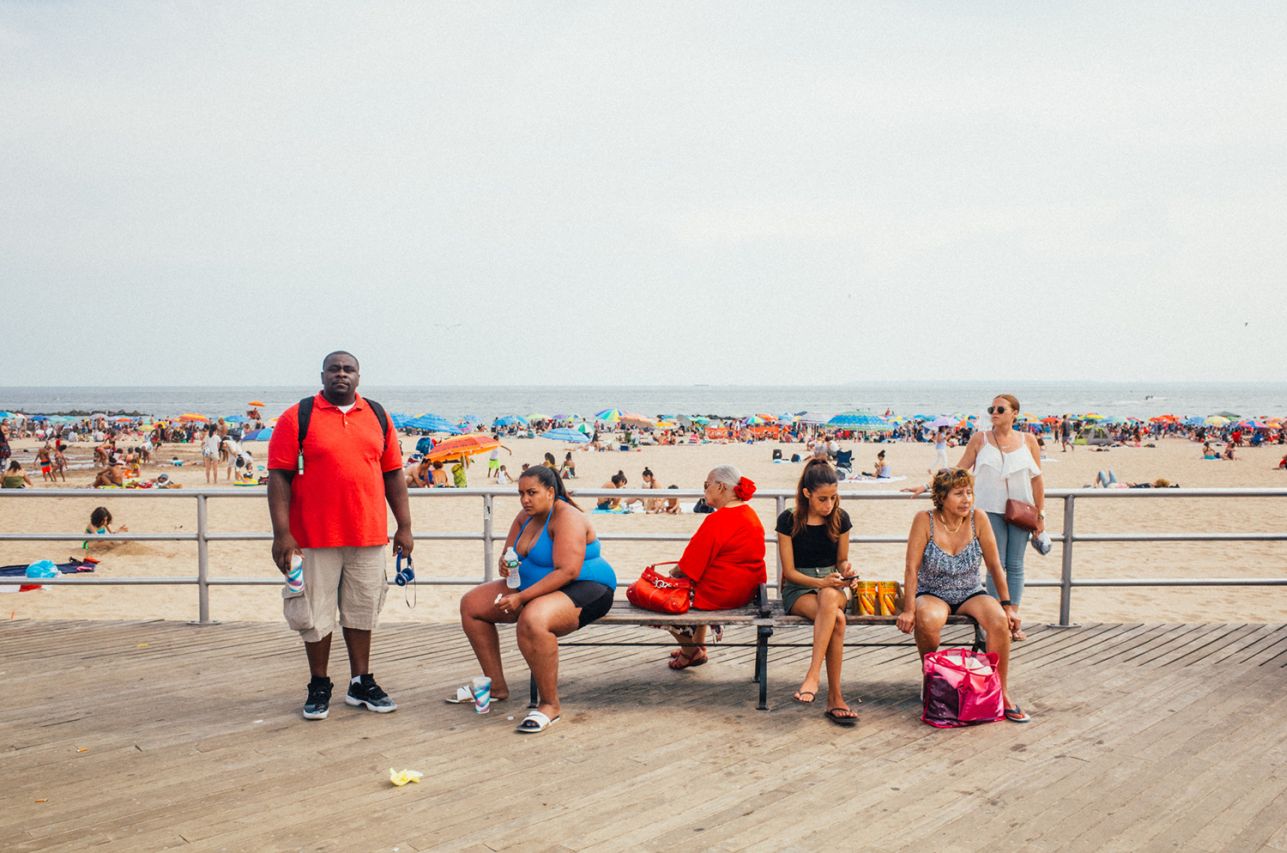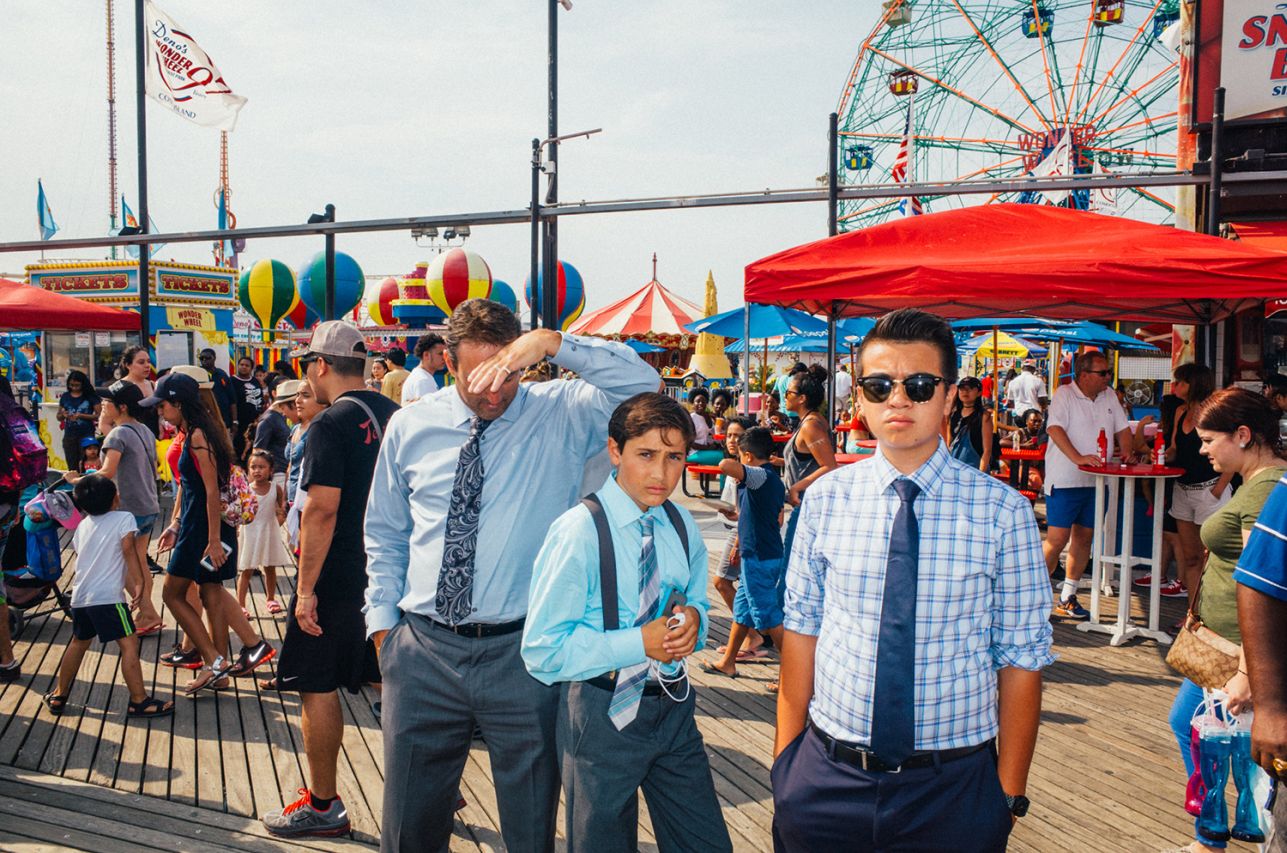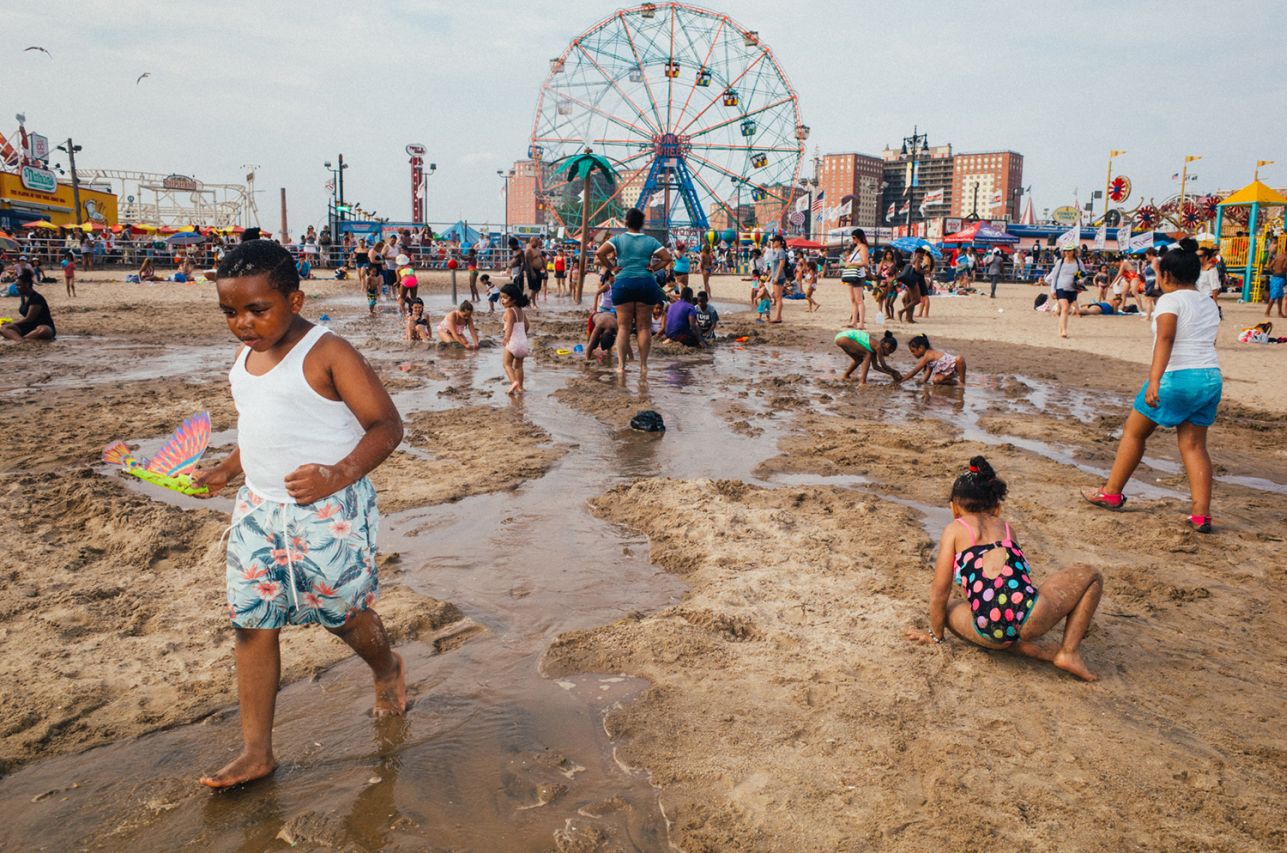 Please tell me a bit about the vibes and stories that you've encountered in Coney Island.
I like the contrast between the amusement park, the boardwalk and the beach. I find it interesting to watch New Yorkers escape the city just to throw themselves into this oversaturated, kitschy world of Coney Island.
The beach strip in front of the amusement park is always fully packed while the beach is almost empty, which is just a 10 minute walk up north. It's astounding. For me, this place is like a time capsule. It feels like not much has changed there in the last few decades. I like the nitty-grittiness of the place and the dazzling characters that fill its scene.
How is shooting on the beach different than in the city?
In the streets, people are moving fast, rushing from one place to another, and you have to move with the stream. The beach is much more static. People are sitting and lying around or playing in the water. It gives you more time to find your scenes.
Photographing on the beach can also sometimes be very strange or awkward. What is your approach to be invisible or to avoid any confrontation?
I put on some swim trunks. Seriously, the best way to merge with your surroundings and remain invisible—and that not only applies to the beach— is to do what everyone else does. When you look like just another tourist taking some snapshots, no one will take any notice of you.
I shoot street shots mostly with my compact Ricoh, which helps because no one takes the camera seriously. If I went to the beach with my big SLR and a tele zoom, people would obviously think that I'm a creep.
You are a member of the NY Street Photography Collective. Please tell us a bit about your personal future plans and those from your group.
The collective is a small group of passionate street photographers that are dedicated to creating and sharing the art of capturing life in public spaces. While we all work independently, we often team up for projects. We regularly produce zines as well as organise exhibitions to highlight photographs from our members or talented photographers we discover.
We have a lot of interesting projects coming up. We just started organizing photography workshops and we're currently planning our next exhibition in New York, so make sure to keep an eye at nyc-spc.com for updates or drop by one of our monthly public meetings when you're in the city. Personally, I am working on a couple of projects that are related to my own background, but it's too early to reveal more juicy details. Stay tuned!
Where can we find more of your work?
You can always find me in the streets of the city or look up my recent work on wasikphoto.com or on instagram.com/mathiaswasik/
Thanks Mathias!